5 Halloween activities for young learners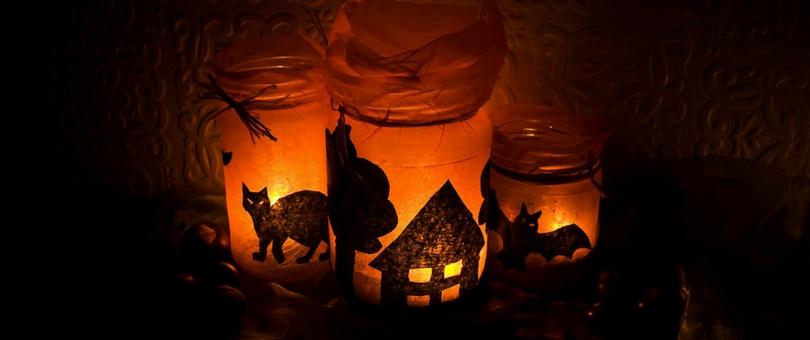 Halloween is just around the corner and is the perfect time to do some festive-inspired activities with your young learner classes. As holidays go, Halloween is one of the most fun, paying homage to all things weird and wonderful, such as ghosts, ghouls and goblins. Here are five of my favourite activities to have a wail of a time with your classes.
1) Halloween toilet roll monsters
Pinterest is always a great resource for all things crafty, and it really hits the nail on the head with these lovely toilet roll monsters.
Easy to make and just as easy on the eye, these crafts would make the perfect props for any type of Halloween puppet show or story telling activity you would like to do. As with all crafts, a lot of the learning to come out of it is in the process. Encourage learners to speak in English while they are crafting, and ask them questions such as 'What's this?' "What colour is it?" ''How are you going to make the wings / whiskers / hair" etc. This ensures that the task stays just as productive linguistically as artistically.
2) Halloween scary story
For older primaries or teens, Halloween provides the perfect inspiration to do some creative writing. Have learners take part in a short story writing contest. Make sure to pre-teach any useful vocabulary that you feel learners may need, such as adjectives that create suspense; and make sure that you focus learners on the process of writing by having them brainstorm ideas for characters, settings and potential scary events. Have learners make a plan, and make sure to give them time for editing and drafting. Afterwards, make sure that learners have the chance to read the stories of other class members, as publishing their writing work gives learners a chance to feel proud about their accomplishments. You could even tell them by torchlight, in true campfire scary-story style.
3) Create a scary movie plot
I tried this with my teen learners (12-13) and they loved it. Halloween is the perfect stimulus for a bit of drama. Learners create their own scary story which they turn into a scary movie. The 'movies' can be recorded on an ipad or mobile phone. When I did this with my classes, I made sure to allocate at least two lessons, as learners need to have time to organize their ideas, script complex parts and rehearse. This activity lends itself really well to task differentiation because you can let each learner work to their individual strength, so while some learners may be natural leaders and work well as the film director, others may be more creative and be more involved with the early ideas stages. Giving learners time to decide which props they want and how they want the classroom set up gives them more opportunities to collaborate in English and makes the actual making of the movie more realistic for them.
4) Mix in a bit of media
Some of the best children's movies of all time are based around or set on Halloween, for example "Casper the friendly ghost", "Hocus Pocus" and my all time personal favourite for using in class, "The Nightmare before Christmas".  Videos contextualize language in a really meaningful way for children.
To keep it educational and purposeful, try to choose a scene from a movie that supports your learning aims for the lesson, and make sure that learners are engaging in a task while they are watching. The opening scene of 'The Nightmare Before Christmas' features a song called 'This is Halloween' and is an amazing resource to get children to practice vocabulary work. One of my favourite activities to do with that song is to have learners predict which types of monsters they will see and then watch and check. Learners can later complete a gapped text with the names of some monsters missing. The song is also organized into rhyming couplets, such as ''Boys and girls of every age, wouldn't you like to see something strange?''.  Learners could be given rhyming words from the song to pair and then later they can listen and check to see if they were correct.
5. Have a Halloween party
Turn your classroom into a Halloween wonderland. Tell learners to come in fancy dress and set up Halloween games for them to play. Set the mood by telling learners a scary story. Later, you can have learners play games like apple bobbing, which is traditional in the UK.  Learners will undoubtedly have a lot of fun.
Later, children can take part in a mummy-making competition where they have to dress a team member as a mummy using toilet paper. This also gives them the opportunity to use English to negotiate and plan how they are going to design their mummy together. You can also gather learners together and tell them a scary story to set the mood.
Whatever you decide to do for Halloween, if you make the task engaging, learners will be motivated to learn and motivated to speak English.
If you're interested in learning more ideas to add creativity and inspiration to your teaching, then you might be interested in our upcoming teacher training workshops, or a Trinity TESOL qualification, offered here in Hong Kong.
Eve Conway is our TYLEC and CertTESOL trainer. She has worked in Spain, Vietnam and Mexico as both a teacher and TYLEC trainer as well as having worked on shorter projects in the UK, Italy, Azerbaijan and Peru. She worked for over 6 years for the British Council, where she discovered a love for working with children, particularly Early Years learners.  Eve holds a bachelor's degree in English language as well as an MA in Applied Linguistics and a Trinity DipTESOL. Having always loved languages, she is a fluent Spanish speaker and is keen to learn more languages.  Eve is a keen conference speaker and occasional writer for ELT magazines and publications.