5 TESOL Dragon Boat Festival activities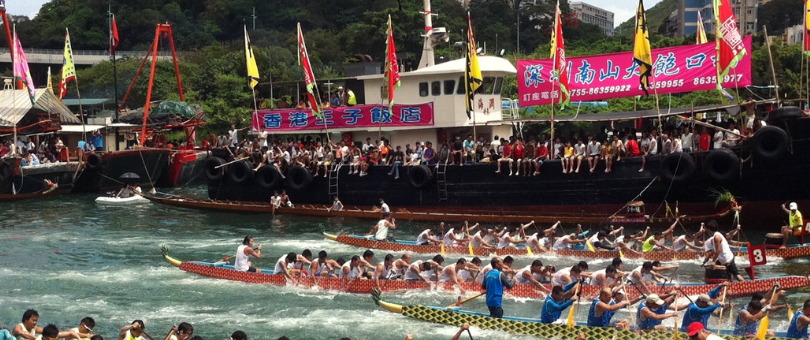 Dragon Boat Festival, also known as the Double Fifth due to its position in the lunar calendar, has been celebrated in many countries in Asia for more than 2000 years. Legend tells of a famous poet, Qu Yuan (340-278BC), renowned for his patriotism and honesty. He wrote many masterpieces, showing his devotion to his country, before being exiled by the emperor. He chose to drown himself in a river, rather than see his country conquered by the Qin state. The people mourned him, throwing rice dumplings into the river to keep the fish from eating his body, and paddling boats out while beating drums to scare off the fish.  Nowadays, vestiges of this legend still remain as special rice dumplings are eaten and dragon boat racing take place globally. Dragon Boat Festival lends itself to many fun and engaging activities which will increase learners' English abilities. In this post we will look at a variety of activities to do with all ages.
1. Festivals Survey
A fun, communicative activity which integrates all four skills. First, discuss the origins of Dragon Boat Festival, pre-teaching any unknown vocabulary. This site has a great Powerpoint presentation on the festival to show pre-intermediate / intermediate students of all ages. Open this into a wider discussion about favourite festivals, or festivals from different countries. The Telegraph has an interesting article on the world's weirdest festivals, excerpts of which can be used as a jigsaw reading activity, giving different students a festival to tell the others. Students exchange information and conduct a survey, filling in a table with information, before reporting back to the class.
2. Origami Dragon Boats
A kinaesthetic listening activity, sure to stimulate learners of all ages. Set context by showing pictures of dragon boats and dragon boat racing. Pre-teach / elicit vocabulary related to parts of the boat and equipment, as well as language for instructions, e.g. cut / fold. Use a video like this one to help explain the instructions, have learners listen and make their dragon boat. Oars can be made with straws pushed through the sides of the boat. Learners can decorate their boats afterwards and display them in class. If you have access to a small pond or paddling pool, you can have learners doing a mock Dragon Boat race, blowing their creations across the water.
3. Dragon Boats and Dragon Stories
There is often no nicer pleasure than having someone read a story aloud. Get learners in the mood, by changing the layout of your room, creating an inviting space (a rug, some cushions, strictly no shoes allowed) where learners can sit on the floor and make themselves comfortable. Read aloud stories to young learners, or have them read the stories if they are capable. Celebrating the Dragon Boat Festival, Red Eggs and Dragon Boats, Gung Ho! and Awakening the Dragon are a good starting point for young learners of 4 upwards. Slightly older children (6-8 years old) might enjoy dragon-themed stories like The Dragon's Dentist, The Dragon with the Chocolate Heart, Dragons Can't Swim, and The Dragon Prince. Older, advanced students will enjoy "The Last Dragon Chronicles", "Pete's Dragon" and "How to Train Your Dragon" series. If your learners are reluctant readers, start off with showing movie trailers for "Pete's Dragon"  or "How to Train Your Dragon", before delving into short texts from stories. Have students create a comic strip, illustration or cover, or rewrite and make an alternative ending of their favourite dragon story.
4. Dragon Dictation
If your learners are a creative bunch, try this great visual and kinaesthetic activity to stimulate them, a listening dictation with a twist! Pre-teach any necessary vocabulary, before practising those listening skills by getting learners to draw a picture of a fire dragon, using an illustration video. Make sure you have plenty of paper and art supplies on hand. Once students have drawn their pictures, get them to decorate and present them to the class. An extension activity would be write stories about their dragons, or write information for a class "Dragon Encyclopedia".
5. Making Rice Dumplings
If your school or centre has access to a kitchen, why not try making some zong zi (rice dumplings)? You can engage your learners visually (with written recipes) or aurally (with video recipes). If doing as a reading activity, try using a simple recipe such as this one. Youtube has a plethora of videos that teach you how to make dumplings. This one has written instructions, which can be done as a reading activity (with sound off), while this one is good for practicing listening skills (from 1:15).  Pre-teach any necessary vocabulary before attempting the dumplings. Learners can try their hand at different combinations, or come up with their own dumpling recipe, using more exotic combinations - banana and peanut, anyone?
What are some of your favourite festival activities?
Sharon is Director of Studies for English for Asia and a teacher trainer on the Trinity CertTESOL course. She has over 14 years of teaching and teacher training experience in TESOL. Sharon specializes in teaching young learners and creating material for teachers and students, as well as running professional development workshops for local teachers of young learners in Hong Kong and Macau. Her qualifications include a BA, Trinity CertTESOL, Cambridge Post-Graduate DELTA, and MA TESOL.